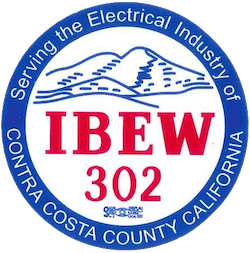 ELECTRIFYING CONTRA COSTA COUNTY
SINCE 1928
Founded as an industrial local in 1928, the International Brotherhood of Electrical Workers Local 302 (IBEW Local 302) is now known for its strong mix of residential, commercial, and industrial electrical work.
IBEW Local 302 spans from the Bay to the Delta. We are proud to provide the best trained and most efficient electricians and sound and communication installers in Contra Costa County, who anticipate and meet the evolving needs of electrical construction and maintenance. Standing proudly with our San Francisco Bay Area sister locals, we promote our members' safety and prosperity through advocacy, education, and fellowship.
December 13, 2023

Inside Wireman's Meeting

December 13, 2023 7:00 pm - 11:00 pm
Meeting Hall

December 14, 2023

Retirees Club Luncheon

December 14, 2023 11:00 am - 1:00 pm


Pot Luck Lunch and meeting!
IBEW Local 302 believes all workers should be treated with dignity and respect, compensated fairly for their labor, and work in an environment safe and free from harassment and discrimination. 
A union is an organization through which ordinary people do extraordinary things. When individuals join together and speak with one voice, we have the power to change our situation for the better. Meet our Local leaders here at 302.
Earn while you learn! Local 302 apprentices gain on the job training in parallel with classroom work. Unions increase the skill levels of their members by providing free high quality apprenticeship programs and journey level upgrade classes.
Prevailing Wage in Construction Articles
When discussing construction projects, have you ever heard developers or local community leaders say "it just doesn't pencil out"? Have you ever heard contractors say "your wages are cutting into our profits"? Are you tired of not having the facts that show that prevailing wages do not increase overall project costs and actually result in stronger local economies? Then these articles are for you.
The Public Cost of Low-Wage Jobs in California's Construction Industry
Here is a report by The UC Berkeley Labor Center on the negative public costs of low-wage construction jobs. They found that almost half of families of construction workers in California are enrolled in a safety net program at an annual public cost of over $3 billion. Many of those workers are likely to be exploited by contractors who reduce health and safety requirements, misclassify workers, pay under the table, don't provide health insurance and under pay workers' compensation premiums which increases that public cost. The ability to build affordable housing shouldn't create more workers that need affordable housing.
California's High Road Jobs and Climate Action Plan for 2030
Here is another report by the UC Berkeley Center for Labor Center that offers the State of California a vision for integrating economic and workforce development into major climate policies and programs in order to help achieve California's major climate goals of greenhouse gas reduction and transition to a carbon neutral economy by 2045. The focused concerns are on job quality and social equity in employment and training while assessing the impacts of climate policies. There are three key points we should understand from this framework. Labor is an investment, not a cost. We need to focus on and support high road careers that pay family-supporting wages, employer-provided benefits, worker voice and opportunities for advancement. And as California transitions to a carbon neutral economy, deliberate policy interventions are necessary to advance job quality and social equity.